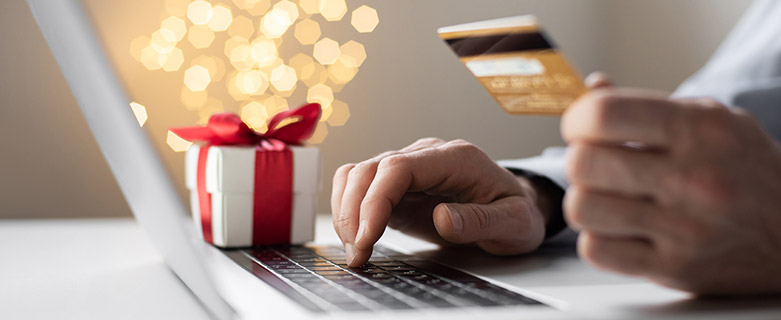 15 Indicators of Potential Fraud to Watch Out for During the Holiday Season
By Chris Alarie on Dec 9, 2020
The holiday season is the most important part of the year for many merchants. The increased sales can comprise such a large portion of the whole year's income as to serve as a make-or-break proposition. But the chaos of massively increased sales volume brings increased risks of chargebacks. Consumers are making more purchases from more varied merchants than they do the rest of the year, leading to a greater possibility of friendly fraud. And malicious fraudsters specifically target both merchants and consumers during the holiday season, leading to a greater possibility of true fraud and chargeback fraud.

The best way for merchants to protect their businesses from chargebacks stemming from holiday season fraud is to know how to identify potential fraud before purchases are completed. These fifteen indicators of potential fraud are especially important during the holiday season.
15 Indicators of Potential Fraud
Unusually Large Orders

Fraudsters who have stolen a consumer's payment card information operate under the assumption that they have a limited amount of time before the card is reported stolen and the account is closed. This gives them an incentive to try to complete large purchases during the brief window between when they've stolen the info and when the account is closed.

Rush Orders

The aforementioned time pressures also incentivize criminals who have committed true fraud to pursue rush orders. Additionally, rush orders can put pressure on merchants that prevents them from identifying a fraudulent purchase.

Reattempting a Declined Transaction with a Smaller Amount

This would be a circumstance in which a transaction was initially declined because it was so suspiciously large that the merchant, issuing bank, or acquiring bank flagged it as potential fraud. If another order comes in from the same card number for a small amount, that might still be an attempt at fraud. In fact, some more systematic fraudsters use this as a way of testing various account and merchant limits.

New Customers

The pursuit of new customers is an essential part of any successful business. And the vast majority of new customers are legitimate actors. But it is also unlikely that a fraudster is going to be a longtime, existing customer. The nature of fraud is such that they are always looking for new merchants to target. Merchants can add spending limits for new customers to help reduce fraud

Conspicuous or Unusual International Shipping Addresses

Many criminal fraudsters operate overseas, where it is more difficult for American law enforcement to catch them. Again, most international orders are legitimate but they still deserve more scrutiny than domestic orders. Certain known, high-risk countries such as Russia, Malaysia, and Ghana are especially notable red flags.

IP Addresses from High-Risk Countries

This a variation on the previous entry. Pay attention to where orders originate in addition to where they are being shipped.

Multiple Orders from Different Card Numbers at the Same IP Address

Fraudsters often work systematically and use multiple stolen cards at the same time.

Multiple Orders from a Single Card with Different Shipping Addresses

This is another possible indicator of a systematic fraud scheme.

Multiple Orders from Different Card Numbers Sending Merchandise to a Single Shipping Address

This a variation on the previous potential scheme.

Multiple Cards Used to Pay for a Single, Large Order

While not necessarily a guarantee of fraud, this is a suspicious way to pay for something and should be treated with caution.

Obviously Fake Information

Orders that have obviously fake personal information such as phone numbers (e.g. 555-555-5555) or email addresses (e.g. 123@email.gov) have a strong potential for fraud.

Multiple Orders from Different Cards with Similar Card Numbers

This is a potential indicator of some sort of fraud where a criminal has managed to scrape or steal multiple card numbers from a single source.

In-Store Pick-Up Requests

In-store pick-up has become a popular method of shopping, particularly during the pandemic. But these purchases should still be treated carefully because some fraudsters may try to use them as a way of picking up goods bought with stolen payment card information. To reduce these occurrences, the merchant should check the ID of the cardholder as well as have them sign the receipt and initial that their ID was checked.

Mismatched Information Across Multiple Purchases from a Single Card Number

If a single card number is used for multiple purchases across a relatively small span of time and the personal, shipping, or contact information is inconsistent across these transactions, that is a cause for suspicion.

Mismatched Geographic Information

Depending on ordering method, merchants can acquire geolocation information for consumers and check it against the billing and shipping addresses that the cardholders provide. If there are suspicious mismatches among this information, it could be an indication of fraud.
Not all of these attributes of a transaction are necessarily surefire indications of fraud in and of themselves. But they are all red flags and transactions that contain these indicators, particularly those that contain more than one (e.g. a new customer who places an unusually large order from an IP address in a high risk country), all necessitate careful attention in order to determine whether or not they are fraudulent.
Conclusion
Criminals take advantage of the chaos and high sales volume of the holiday season to perpetrate their schemes. Consumers, merchants, banks, and other payment servicers are all extremely busy during this time of the year and these fraudsters count on them to be less vigilant about preventing fraud. It is important that merchants, instead, practice increased vigilance lest they risk a significant increase in chargebacks.
This is especially important this year, as the ongoing pandemic is likely to increase the volume of card-not-present transactions during this busy season. According to Allocadia, 71% of U.S. consumers plan to do at least half of their holiday shopping online this year.
A solid chargeback protection plan is essential, but what is a good chargeback protection? What components does it need to have, and how can you tell if they're working effectively? We've got answers for you in this helpful guide, How to Protect Your Business Against Chargebacks & Fraud.


Chargeback Protection, Chargeback Prevention, Chargeback Fraud